Quincy Smith
Quincy O. Smith
Nickname: Q

Career: 1943-1946
Position: of
Team: Cleveland Buckeyes
Born: February 3, 1918, Louisiana

Baseball Career Highlights:
"Being chosen by the Cleveland Buckeyes to play in the Negro Leagues and on the 1950 East-West All Star team with Satchel Paige and 'Cool Papa' Bell."

Professional/Personal Accomplishments:
"I worked 21 years at Amatarp, General Cable Corporation, in St. Louis, Missouri. I also coached baseball at the American Legion, in Paris, Illinois, and a little league team, in Terre, Indiana."

Source: NLBM Legacy 2000 Players' Reunion Alumni Book, Kansas City Missouri: Negro Leagues Baseball Museum, Inc., 2000.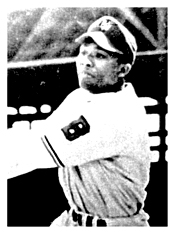 Quincy Smith