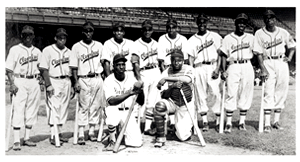 Clevelend Buckeyes
In 1942, when the franchise was first organized, some games were played in Cleveland, but a permanent move was not made until the ballclub moved from Cincinnati in 1943 and remained until 1949, when they moved to Louisville for a season before returning in 1950.

The highlight of the franchise's history came in 1945, when catcher manager Quincey Trouppe led the Buckeyes to a Negro American League pennant (winning both halves of the split season and finishing with an overall 53-16 record for a .768 winning percentage and a sweep of the Homestead Grays in the Negro World Series. The Buckeyes, under Trouppe's tutelage, captured another flag in 1947 with a 54-23 record (.701 pct.) but lost the World Series to the New York Cubans in five games.

Source: James A. Riley, The Biographical Encyclopedia of the Negro Baseball Leagues, New York: Carroll & Graf Publishers, Inc., 1994.
Duration:
1943-1948, 1950

Honors:
Negro American League pennants (1945, 1947), World Series Champions (1945)

Affiliation:
Negro American League

More team photos