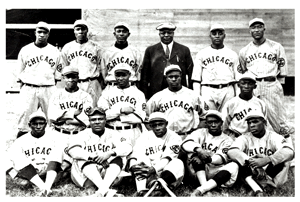 Chicago American Giants
Organized by Rube Foster, who built the team into a dynasty before his demise, the organization was the longest continuous franchise in the history of black baseball. The team began in 1910 when Rube Foster and Frank Leland, who were the manager and owner, respectively, of the Leland Giants, separated and formed two different ballclubs. Foster retained the team name of Leland Giants for the first season, but beginning in 1911 the club became known as the American Giants. For the first decade of the team's existence, they won every declared western championship, losing only to the 1916 Indianapolis ABCs. The American Giants' dominance continued after Foster organized the first black professional league, the Negro National League, in 1920, winning the first three pennants.

After Foster's incapacitation from his mental illness, his white business partner, John M. Schorling, ran the ballclub, and in 1926 and 1927, with Foster's lieutenant David Malarcher at the reins, the team won both the Negro National League flag and the Negro World Series, each time facing the Eastern Colored League's champion Bacharach Giants. In the spring of 1928 Schorling sold the ballclub to William E. Trimble, a white florist, alleging that he was "squeezed out" by a conspiracy of the other owners to diminish the gates by keeping the best clubs out of Chicago.

After Foster's death and the demise of the Negro National League, the franchise again rose to prominence as Cole's American Giants, under the management of new owners Robert A. Cole and Horace G. Hall, in 1932-1934, winning pennants the first two years before losing a hard fought League Championship Series to the Philadelphia Stars in 1934. The first of the two pennants came while playing in the Negro Southern League and the second in the newly reorganized Negro National League. After dropping out of the Negro National League to play as an independent team in 1936, the American Giants prospered again under new ownership as Dr. J.B. Martin took control of the team, and the American Giants became a charter member of the Negro American League in 1937. Although the franchise encountered many difficulties during the 1940s, the ballclub remained in the league even after it had ceased to be of major-league caliber.

Source: James A. Riley, The Biographical Encyclopedia of the Negro Baseball Leagues, New York: Carroll & Graf Publishers, Inc., 1994.
Duration:
1911-1950

Honors:
World Series (1926-1927), League pennants (1920-1922, 1926-1927, 1932-1933), Second Half Negro National League title (1928), First Half Negro National League title (1934)

Affiliations:
Independent (1911-1919, 1936), Negro National League (1920-1931, 1933-1935), Negro Southern League (1932), Negro American League (1937-1950)

More team photos