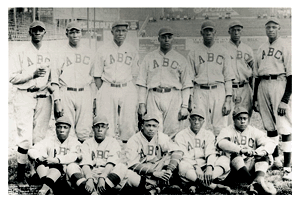 Indianapolis ABCs
This was previously a franchise of lesser distinction, but owner Thomas Bowser and manager C.I. Taylor stocked the team with players of major league caliber in 1914, and it immediately became one of the best teams in black baseball. An intense rivalry developed between Taylor and Rube Foster, the two managers acknowledged as the best in black baseball. After losing a hard fought championship series to Foster's Chicago American Giants in 1915, the ABCs overcame a division within the management between Bowser and Taylor to defeat the Chicago American Giants for the western championship in 1916.

A schism had developed between Bowser and Taylor following the 1915 season, and at the beginning of the 1916 season there were two ABC teams, with Bowser leading one and Taylor the other. Eventually Taylor's aggregation retained the quality players who formed the nucleus of his championship squad, and Bowser's team melded into obscurity. Under Taylor's leadership the ABCs became charter members of the Negro National League and fielded a team each year from 1920 to 1926. After Taylor's death in 1922, his wife tried to run the team with C.I.'s brother Ben at the helm, but wholesale defection of players to the new Eastern Colored League and a misunderstanding that led Ben also to take a managerial position in the East led to financial difficulties for Mrs. Taylor, and the team was disbanded.

In later years, a different franchise under new ownership but bearing the same name entered into league play in 193133, and again in 1938-1939 in the Negro American League. Each of the teams from the Depression years of the 1930s who bore the once proud ABCs name were characterized by instability and confusion. About the only commonality between the 1931 and 1932 teams was the manager, Candy Jim Taylor (another of the famous Taylor brothers). The players were different and they played in different leagues, with the former team in the Negro National League and the latter in the Negro Southern League.

In 1933 the team started in Indianapolis but very early in the spring moved to Detroit and played as the Stars. In the last effort to bring an ABCs team back to Indianapolis, the 1938 ABCs franchise shifted operations to the Midwest and played as the St. Louis Stars in 1939 40, while the Atlanta Black Crackers of 1938 moved into Indianapolis and played under the ABCs banner for a short time in 1939.

Source: James A. Riley, The Biographical Encyclopedia of the Negro Baseball Leagues, New York: Carroll & Graf Publishers, Inc., 1994.
Duration:
1913-1926, 1931-1933, 1938-1939

Honors:
Western Champions (1916)

Affiliations:
Independent (1913-1919), Negro National League (1920-1926, 1931, 1933), Negro Southern League (1932), Negro American League (1938-1939)