Henry Robinson
Henry Frazier Robinson
Nickname: Pep, Slow (Sloe), Hank

Career: 1939-1950
Position: c
Teams: Satchel Paige's All-Stars (1939), Kansas City Monarchs (1942-1943), New York Black Yankees (1943), Baltimore Elite Giants (1943, 1946-1950), military service (1943-1945), Baltimore Greys (1942)
Bats: Right
Throws: Right
Height: 5' 11'' Weight: 178
Born: May 30, 1910, Birmingham, Alabama

Late in the 1942 season, when Kansas City Monarchs catcher Joe Greene split a finger and was out of action, the Monarchs picked him up in Baltimore to catch until Greene was able again. The Monarchs held on to win the Negro American League pennant, earning the right to play the Negro National League Champion Homestead Grays, and Robinson was listed on the World Series roster but never actually participated. With Greene well again, Robinson moved to the New York Black Yankees in 1943, making a brief appearance as a reserve catcher.

But he had three other receivers ahead of him on the ballclub and joined the Baltimore Elite Giants early in the same season before joining the Navy. He serving for the duration of World War II. After his discharge in 1946 he returned to the Elites as a backup catcher. Although reporting for spring training in top condition, he was released in early June to make room for veterans Willie Wells and Sammy T. Hughes, who had been signed.

A slap hitter with a weakness on curveballs, he did not hit consistently but could hit the ball hard at times. He was a subpar base runner, lacking sufficient speed to steal or take an extra base. In the field he was a hustler and had a good arm, but otherwise he had only average defensive skills.

He moved to Oklahoma as a boy and began playing professional baseball with Satchel Paige's All-Stars in 1939. He and his brother, Norman "Bobby" Robinson, formed a brother combination on the Elites in 1946, and the receiver continued with the Elites through 1950, batting .225 in his last season.

Baseball Career Highlights:
Satchel Paige helped Robinson get his start in professional baseball by giving him the opportunity to play with his All-Star team.

Professional/Personal Accomplishments:
Robinson established his own business, Sweep It Right Parking Lot Maintenance, in Los Angeles, California, in 1977. In 1989, he closed the business and moved to North Carolina.

Sources:
NLBM Legacy 2000 Players' Reunion Alumni Book, Kansas City Missouri: Negro Leagues Baseball Museum, Inc., 2000.

James A. Riley, The Biographical Encyclopedia of the Negro Baseball Leagues, New York: Carroll & Graf Publishers, Inc., 1994.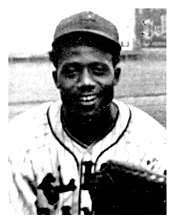 Henry Robinson