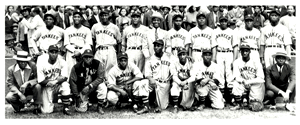 New York Black Yankees
The New York Black Yankees' franchise was basically an extension of the New York Lincoln Giants, filling a void created when the Lincoln Giants folded operations after the 1930 season. In 1931 John Henry Lloyd managed an interim New York team, the Harlem Stars, which served as a bridge between the two longtime franchises.

In 1932 the New York Black Yankees began operation, with George Scales installed as manager. In 1936 the Black Yankees entered the Negro National League for the second half, finishing with an 8-7 league ledger, and for the next dozen seasons (1937-1948) the Black Yankees fielded a team in the Negro National League. But rather than dominating their league, as did their white counterparts (the New York Yankees), they were the doormats of the Negro National League, usually finishing in the cellar and never higher than fifth in a six team league.

Source: James A. Riley, The Biographical Encyclopedia of the Negro Baseball Leagues, New York: Carroll & Graf Publishers, Inc., 1994.
Duration:
1932-1950

Affiliations:
Independent (1932-1935, 1949-1950), Negro National League (1936-1948)