Henry Presswood
Henry Presswood
Nickname: Hank

Career: 1948-1952
Positions: ss, 3b
Teams: Cleveland Buckeyes (1948-1950), Kansas City Monarchs (1952)
Born: October 7, 1921, Electric Mills, Mississippi

Beginning his career as the Negro Leagues began their decline, he was a shortstop with the Cleveland Buckeyes for three years, batting only .198 for the 1948 season. Two years after leaving the Buckeyes, he played with the Kansas City Monarchs as a third baseman, but the Negro American League was strictly a minor league at that time.

Baseball Career Highlights:
"I was very excited to play baseball in the league. I give Willie Grace all the credit for me being in the league. I didn't let my skippers in Cleveland or in Kansas City down."

Professional/Personal Accomplishments:
"When my baseball career was over, I played fast-pitch softball at Inland Steel, where I was employed. I have quite a few trophies and a jacket I received for good sportsmanship. Before retiring, I worked at Inland 30 years and nine months."

Sources:
NLBM Legacy 2000 Players' Reunion Alumni Book, Kansas City Missouri: Negro Leagues Baseball Museum, Inc., 2000.

James A. Riley, The Biographical Encyclopedia of the Negro Baseball Leagues, New York: Carroll & Graf Publishers, Inc., 1994.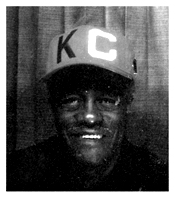 Henry Presswood