Connie Morgan
Connie Morgan

Career: 1954-1955
Position: 2b
Teams: Indianapolis Clowns
Bats: Right
Throws: Right
Height: 5' 4'' Weight: 140
Born: October 17, 1935, Philadelphia, Pennsylvania
Died: October 14, 1996, Philadelphia, Pennsylvania

A female player primarily utilized as a gate attraction, she played second base with the Indianapolis Clowns in 1954, replacing Toni Stone, another female player. At this time the Negro League was no longer a quality organization. Before signing with the Clowns at age nineteen, she played five years with the North Philadelphia Honey Drippers, an all-girl baseball team, and finished with a .368 batting average to show for her tenure with the team. An all-around athlete, she played basketball in the off-season. Prior to signing with the Clowns, she attended John Bartrum High School and William Penn Business School in her hometown.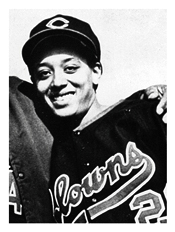 Connie Morgan