Toni Stone
Marcenia Lyle Alberga
Nickname: Toni Stone

Career: 1953-1954
Position: 2b
Teams: Indianapolis Clowns, Kansas City Monarchs
Bats: Right
Throws: Right
Height: 5' 7-1/2'' Weight: 146
Born: 1931, St. Paul, Minnesota
Died: November 2, 1996

Toni Stone was second baseman for the Indianapolis Clowns in 1953. Although signed primarily as a gate attraction, she holds the distinction of being the first female to play in the Negro American League. During the early 1950s the league had become strictly a minor league operation and was struggling to survive financially. Her appearance on the diamond reflected the extent of the exodus of players to organized baseball but, despite the circumstances, she played in 50 games and hit a respectable .243. During the winter she was traded to the Kansas City Monarchs for the 1954 season and was replaced on the Clowns by another female second baseman, Connie Morgan.

She began her diamond career as a softball player with the Girls Highlex Softball Club in St. Paul, Minnesota. At age fifteen, she began playing with a men's team, and after graduating from Roosevelt High School, she switched to baseball. In 1953, at age twenty two, she signed with the Clowns and began her two year stint in the Negro Leagues.

While playing in the Negro Leagues, she was knocked down by pitchers, taken out on double plays by baserunners, and generally treated the same as other ballplayers while on the ballfield. In September of 1993, she was inducted into the Women's Sports Hall of Fame on Long Island.

Source: James A. Riley, The Biographical Encyclopedia of the Negro Baseball Leagues, New York: Carroll & Graf Publishers, Inc., 1994.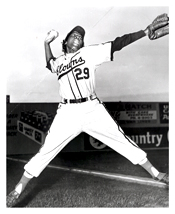 Toni Stone