Nathaniel McClinic
Nathaniel McClinic
Nickname: Nat
a.k.a. McClinnic

Career: 1946-1948
Position: of
Teams: Cleveland Buckeyes (1946-1948), Birmingham Black Barons (1948)
Born: April 26, 1924, Silver Creek, Georgia
Died: April 3, 2004, Rome, Georgia

A light-hitting reserve outfielder, he appeared briefly with the postwar Cleveland Buckeyes for three seasons, including the Negro American League championship team of 1947. However, his playing time was severely constrained, and the only available statistics show a .086 batting average for the 1948 season.

He also played with the Atlanta Black Crackers in the Negro Southern League and was vying for an outfield position with the Birmingham Black Barons in the spring of 1948 but did not land a spot in their outfield.

Baseball Career Highlights:
"I played in the Negro American League Championship in 1947."

Professional/Personal Accomplishments:
"In addition to being the first black police officer in Floyd County in Rome, Georgia, I was also the only black criminal investigator as well. Since retiring in 1986, I work with charities such as the Vick Wilker Boys Home and occasionally, I go rabbit hunting."

Sources:
NLBM Legacy 2000 Players' Reunion Alumni Book, Kansas City Missouri: Negro Leagues Baseball Museum, Inc., 2000.

James A. Riley, The Biographical Encyclopedia of the Negro Baseball Leagues, New York: Carroll & Graf Publishers, Inc., 1994.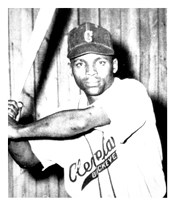 Nathaniel McClinic