Ernest Long
Ernest S. Long
Nickname: The Kid

Career: 1948-1950
Positions: p, of, 1b
Teams: Chattanooga Choo Choos (1945-1947), Cleveland Buckeyes (1948, 1950), Louisville Buckeyes (1949)
Bats: Right
Throws: Right
Born: October 11, 1927, Rome, Georgia

After a three-year apprenticeship with the Chattanooga Choo Choos beginning in 1945, he joined the Cleveland Buckeyes for another three years of baseball, this time with a Negro American League franchise (1948-1950). In his first season, 1948, he registeed a 7-3 mark with a 3.60 ERA.

The next season the Buckeyes moved to Louisville and fielded a weak aggregation, finishing in the cellar with a dismal .216 winning percentage. Long's 3-14 record reflected the lack of support, but he was selected to the West squad for the East-West All Star game and, although not utilized in the contest, he considered this the highlight of his career.

The Buckeyes moved back to Cleveland for the 1950 season, but although he was listed on the roster, he never pitched in a league contest. An arm injury suffered from playing winter ball in South America curtailed his pitching career, and although he also played at first base and in the outfield, he never hit enough to earn a spot in the regular lineup and never was able to recapture his early success. After leaving baseball he moved to Rome, Georgia, and retired in 1988.

Baseball Career Highlights:
"I have fond memories as a professional baseball player. I spent three seasons playing with the Chattanooga Choo Choos before getting a shot with the Cleveland Buckeyes. That team played at the highest level of Negro Leagues' competition and eventually I earned a berth in the 1949 Negro Leagues All Star game."

Professional/Personal Accomplishments:
Long was an industrial operator for 30 years.

Sources:
NLBM Legacy 2000 Players' Reunion Alumni Book, Kansas City Missouri: Negro Leagues Baseball Museum, Inc., 2000.

James A. Riley, The Biographical Encyclopedia of the Negro Baseball Leagues, New York: Carroll & Graf Publishers, Inc., 1994.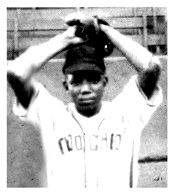 Ernest Long