Otha Bailey
Otha S. Bailey
Nickname: L'il Catch, Bill

Career: 1949-1959
Position: c
Teams: Chattanooga Choo Choos (1950), Cleveland Buckeyes (1950), Houston Eagles (1950), New Orleans Eagles (1951), Birmingham Black Barons (1950, 1952-1959)
Bats: Right
Throws: Right
Height: 5' 6'' Weight: 150
Born: June 30, 1920, Huntsville, Alabama

The catcher made the jump from the sandlots to the black majors at a time when the quality of play in the Negro Leagues was declining. After playing with the Huntsville Pirates and the Huntsville Stars in 1949, he had a tryout with the Birmingham Black Barons, but was released in the spring of 1950. He then signed with manager Jim Canada's Chattanooga Choo Choos before joining the Negro American League's Cleveland Buckeyes. Leaving the Buckeyes, he joined the Houston Eagles, and stayed with the club when they relocated in New Orleans in the spring of 1951.

The scrappy little catcher had an accurate arm and was quick behind the plate, often beating the runner to first base while backing up a play. He also called a good game, studying the opposing hitters during batting practice to learn their weaknesses. He was fast enough to steal a few bases, and was a line-drive hitter without much power. In 1952 he found a spot on the Birmingham Black Barons' roster for the remainder of the decade. However, during these years the Negro Leagues were no longer quality leagues. One of the pitchers on the ballclub was Charlie Pride, who later became a country music star.

During the early 1950s he barnstormed against major leaguers, and was scouted by the Boston Red Sox, but his size was against him. On another occasion he overslept and missed his tryout with the Dodgers. Finally, in 1959, he left baseball and took a regular job with Connor Steel in Birmingham.

Baseball Career Highlights:
"I hit one home run in my career, the rest were against the fence. I caught three no-hitters in my lifetime and called all the shots. I was chosen for two East-West All Star Games and I started each one of them."

Professional/Personal Accomplishments:
When Bailey left the Negro Leagues, he worked at H. K. Porter Steel Company until he retired after 24 years of service. Today, he works at Steel City Olds.

Awards, Honors, Titles, Championships,
Schools, Colleges:
"In Birmingham, Alabama, I was honored by Wenonah High School for my contributions to their reunions. I received a trophy from Bethel Baptist Church for being a Negro Leagues baseball legend. Also, I received two keys to the City of Birmingham."

Sources:
NLBM Legacy 2000 Players' Reunion Alumni Book, Kansas City Missouri: Negro Leagues Baseball Museum, Inc., 2000.

James A. Riley, The Biographical Encyclopedia of the Negro Baseball Leagues, New York: Carroll & Graf Publishers, Inc., 1994.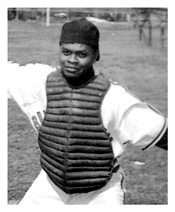 Otha "L'il Catch" Bailey