Ron Teasley
Ronald Teasley
Nickname: Ron, School Boy, Roomie

Career: 1948
Positions: 1b, 3b, of
Teams: Toledo Cubs (1945), minor leagues (1948-1951), New York Cubans (1948)
Bats: Right
Throws: Right
Height: 5' 11'' Weight: 177
Born: January 26, 1927, Detroit, Michigan

He played in the outfield with the New York Cubans for about two months in 1948 after being released by a farm team of the Brooklyn Dodgers' organization, the Olean team of the Pony League. He and Sammy Gee were released by the Dodgers at the same time, although both were doing pretty well. Teasley, playing first base, had 3 homeruns in 23 games. Both returned to the Negro Leagues with the Cubans, but Teasley was still depressed about being let go at Olean and did not perform well. Later he played with Carman in the Mandak League, batting .299 in 1950, and was selected to the All Star team twice in 1950 and 1951.

As a youngster he played with semi-pro teams in Detroit, Toledo, and Ypsilanti and toured Michigan playing teams from the Negro Leagues. One of these teams, the Motor City Giants of Detroit, was an independent semi-pro team aspiring to become a member of the ill-fated United States League. In college at Wayne State University, Teasley finished with a .500 batting average. After his baseball career ended, he returned to the university, earning a degree in education, and began a second career as a high school teacher and coach in Detroit. In 1986 was inducted into Wayne State University's Hall of Fame.

Baseball Career Highlights:
"I was the first African American baseball captain for Northwestern High School in Detroit, Michigan. My batting average of .500 still stands at Wayne State University (Detroit). I was signed by the Brooklyn Dodgers in 1948 and released that same year. Then, I signed with the New York Cubans."

Professional/Personal Accomplishments:
"As a columnist and photographer for the Michigan Chronicle, I covered the 1948 Goodwill Games in Russia. I earned a postgraduate degree at Wayne State University and worked 34 years with the Detroit Board of Education. In addition, I coached basketball, golf and baseball for many years."

Awards, Honors, Titles, Championships,
Schools, Colleges:
• Northwestern High School Hall of Fame Inductee
• Wayne State University Hall of Fame Inductee
• Afro American Sports Hall of Fame Inductee
• Meals on Wheels Hall of Fame
• Michigan High School Baseball Coaches Association Hall of
Fame
• Basketball "Coach of the Year" - 1973-1974
• 3-Time Mandak League All Star
• 15 High School Coaching Championships
• Detroit Senior Olympics Awards
• Michigan Senior Olympics Awards
• World Senior Games Awards

Sources:
NLBM Legacy 2000 Players' Reunion Alumni Book, Kansas City Missouri: Negro Leagues Baseball Museum, Inc., 2000.

James A. Riley, The Biographical Encyclopedia of the Negro Baseball Leagues, New York: Carroll & Graf Publishers, Inc., 1994.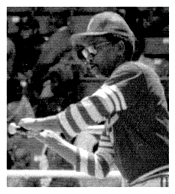 Ron Teasley