Gene Richardson
Eugene Richardson
Nickname: Gene

Career: 1947-1950
Position: p
Teams: Kansas City Monarchs (1947-1953), Baltimore Elite Giants (1951)
Bats: Left
Throws: Left
Height: 5' 10'' Weight: 160

A left-handed pitcher with a good curve and change-up, an average fastball, and good control, he began pitching with the Kansas City Monarchs in 1947 and posted a 5-6 record the following season. In 1949, his third year in Kansas City, he was scouted by the Boston Braves, who were interested in signing him, but he remained with the Monarchs and fashioned a 4-2 work sheet in 1950. As the Negro American League was struggling to survive the loss of players to organized baseball, he pitched with the Baltimore Elite Giants in 1951 for a season, but returned to the Monarchs, playing through 1953; but the league was strictly a minor league at that time.

Source: James A. Riley, The Biographical Encyclopedia of the Negro Baseball Leagues, New York: Carroll & Graf Publishers, Inc., 1994.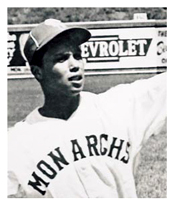 Gene Richardson