Mack Pride
Mack A. Pride, Jr.
Nickname: Mack the Knife

Career: 1955-1956
Position: p
Teams: Memphis Red Sox, Kansas City Monarchs
Born: May 27, 1932, Sledge, Mississippi

Professional/Personal Accomplishments:
Pride has sung in night clubs, at weddings, funerals and on television ministry programs. He coached little league baseball for six years. He has held various occupations for the past 30 years.

Source: NLBM Legacy 2000 Players' Reunion Alumni Book, Kansas City Missouri: Negro Leagues Baseball Museum, Inc., 2000.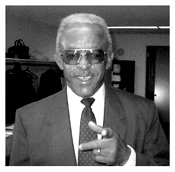 Mack Pride