Alex Pompez
Alejandro Pompez
Nicknames: Alessandro, Alex

Career: 1916-1950
Positions: manager, officer, owner; vice president (Negro National League)
Teams: Cuban Stars (East) (1922-1929), New York Cubans (1935-1950)
Height: 5' 11''
Born: May 3, 1890, Havana, Cuba
Died: March 15, 1974, New York, New York
National Baseball Hall of Fame Inductee (2006)

A sports promoter and numbers banker, he owned the New York Cubans for their duration in the Negro National League. He also served as the vice president of the Negro National League. Earlier in his career, he owned, managed, and promoted the Cuban Stars' team that began in the deadball era and was based in the East during the 1920s. An influential owner, after the Eastern Colored League was established he helped negotiate the first Negro World Series, in 1924.

When the Cuban Stars disbanded temporarily during the early '30s, he organized the New York Cubans in 1935 and won the second-half title behind the play of Martin Dihigo. By this time Pompez was an important member of Dutch Schultz's mob and was one of the wealthiest men in Harlem. When Thomas E. Dewey, district attorney of New York County, began a crackdown on New York racketeers, he selected Pompez as one of his targets, and in 1936, Pompez was indicted by a grand jury for his involvement in policy rackets. Tipped off by an elevator operator while on his way into Dewey's trap, Pompez disappeared, giving rise to rumors that he had been kidnapped or was in hiding to avoid the grand jury's jurisdiction. Actually he escaped to Mexico, where he resumed his flamboyant lifestyle until arrested by Mexican authorities as he was stepping into a bulletproof sedan with Chicago license plates. Mexican officials refused Dewey's request for extradition, but Pompez decided to return to the United States to turn state's evidence. He is considered to be the only man who informed on another racketeer and lived.

Pompez was no stranger to either this element of societal concerns or unusual occurrences. Once, when a number was heavily played, he shared a part of the "business" with an Italian banker, and when the number hit, Pompez could not cover the payoff and tried to leave town with a substantial sum of money, but the train was stopped by the Mafia and he was taken off the train. Needless to say, the payoff was covered.

The New York Cubans dropped out of competition for a season following Pompez's indictment, but were back in the Negro National League in 1938 when Pompez returned to the baseball scene. His New York Cubans were in a Negro National League championship playoff in 1941 and won the Negro National League flag and World Series in 1947. The next season the Cuban Giants became a New York Giants' farm club, with Pompez doubling as a scout for the New York Giants. In this capacity he was responsible for many black players being signed by the major leagues. Later in life he was a member of the National Baseball Hall of Fame's special committee for the Negro Leagues, and in 2006 he was inducted posthumously to the Hall of Fame himself, as a pioneer/executive.

Source: James A. Riley, The Biographical Encyclopedia of the Negro Baseball Leagues, New York: Carroll & Graf Publishers, Inc., 1994.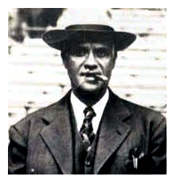 Alex Pompez