Clinton "Butch" McCord
Clinton Hill McCord, Jr.
Nickname: Butch

Career: 1947-1950
Positions: 1b, of, 2b
Teams: military service (1944-1945), Nashville Cubs (1946), Nashville Black Vols (1947), Baltimore Elite Giants (1948-1950), Chicago American Giants (1950), minor leagues (1951-1961)
Bats: Left
Throws: Left
Height: 5' 10'' Weight: 161
Born: November 2, 1925, Nashville, Tennessee

A first baseman-outfielder, he started his professional career in 1946, after he completed his military service. While still attending Tennessee State University, he signed to play in the Negro Southern League with manager Felton Snow's Nashville Black Vols in 1947. The next year he joined the Baltimore Elite Giants under Hoss Walker's managership, batting .269 in 1949, and stayed there until leaving during the 1950 season to join "Double Duty" Radcliffe's Chicago American Giants, where he raised his average to .349 for the 1950 season.

He entered organized baseball in 1951, and during his eleven seasons he won two batting titles, two silver gloves, three pennants, and three playoffs. He was also voted the most popular player and was given a special night, with Bill Veeck in attendance.

He enjoyed outstanding success in his first two years while showing great defensive skills at first base with Paris in the Mississippi-Ohio Valley League. He hit for average (.363 and .392), with power (16 and 15 home runs) and timeliness (118 and 109 RBIs) while demonstrating good speed (22 and 20 stolen bases) and scoring often (132 and 123 runs). In the first season there he also collected 102 walks. Afterward, as he moved up to higher classifications, he never enjoyed the same degree of success.

In two years at Denver he hit .281 and .358 and then, in 1955-1956, he spent two years in the International League, batting .258 with Richmond and .275 with Columbus. In Louisville in the American Association he hit .267 in 1957. The next three seasons were productive at their levels, as he hit .305 with Macon in the South Atlantic League and .298 and .300 with Victoria in the Texas League in 1959-1960. After another brief trial with St. Paul in the American Association he finished his career back in the Texas League, where he hit. 285 in 1961.

After closing out his baseball career he worked with the YMCA before embarking upon a twenty-four-year career as a postal clerk, retiring from the post office in 1988.

Baseball Career Highlights:
"I hit .368 during my last year in the Negro Leagues with the Chicago American Giants."

Professional/Personal Accomplishments:
"While playing baseball, I attended Tennessee State University on a football scholarship for three years. After playing with the Negro Leagues, I worked for the U.S. Postal Service for 25 years. I coached the first black team in the white Tn State League. I've been the treasurer of the First Baptist Church of East Nashville since 1972. And I will celebrate my 50th wedding anniversary next year."

Awards, Honors, Titles, Championships,
Schools, Colleges:
• Tennessee State University (TSU) Football Scholarship - 1944
• Negro National Champions Football Team (TSU) - 1946
• TSU Baseball Field Named in McCord's Honor
• Only African American to Receive "Mr. Baseball" Title
• National Association of Black Journalist Award
• American Baseball Coaches Association Award
• Nashville Urban League Award

Sources:
NLBM Legacy 2000 Players' Reunion Alumni Book, Kansas City Missouri: Negro Leagues Baseball Museum, Inc., 2000.

James A. Riley, The Biographical Encyclopedia of the Negro Baseball Leagues, New York: Carroll & Graf Publishers, Inc., 1994.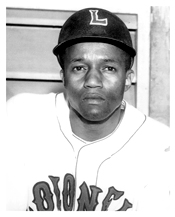 Clinton "Butch" McCord