Mamie "Peanut" Johnson
Mamie Johnson
Nickname: Peanut

Career: 1953-1955
Positions: p, ut
Team: Indianapolis Clowns
Bats: Right
Throws: Right
Height: 5' 4'' Weight: 120
Born: September 27, 1932, Long Branch, New Jersey

Another of the Indianapolis Clowns' female players, she was used as a pitcher and utility player. Nicknamed "Peanut" because of her size, the little right-hander threw as hard as many male pitchers. She attended Long Branch High School, where she played boys' sports, including football. She also attended New York University, where she studied medicine and engineering, before signing with the Clowns at age twenty-two.

Baseball Career Highlights:
"Just knowing I was good enough to play with some of the greatest ball players there were at the time."

Professional/Personal Accomplishments:
"After baseball, I worked 30 years as a nurse. I also coached little league baseball and continue to do so."

Sources:
NLBM Legacy 2000 Players' Reunion Alumni Book, Kansas City Missouri: Negro Leagues Baseball Museum, Inc., 2000.

James A. Riley, The Biographical Encyclopedia of the Negro Baseball Leagues, New York: Carroll & Graf Publishers, Inc., 1994.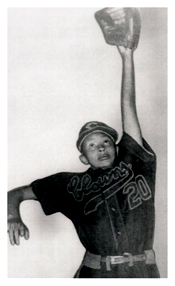 Mamie "Peanut"
Johnson