Andy "Lefty" Cooper
Andy Cooper
Nickname: Lefty

Career: 1920-1941
Positions: p, manager
Teams: Detroit Stars (1920-1927, 1930), Chicago American Giants, St. Louis Stars, Kansas City Monarchs (1928-1941)
Bats: Right
Throws: Left
Height: 6' 2'' Weight: 220
Born: March 4, 1896, Waco, Texas
Died: June 10, 1941, Waco, Texas
National Baseball Hall of Fame Inductee (2006)

This longtime star of the Kansas City Monarchs pitched in the 1936 All Star game for the West squad at age forty. Earlier in his career the large left-hander had been the ace hurler with the Detroit Stars and the Monarchs. A smart pitcher who was a master at mixing pitches and changing speeds, he had superb control and an exceptional and effective array of breaking pitches, including a great curveball, change, slider, and screwball, that he used to finesse the batters. His move to first base was superb, and he was at his best in the clutch. His brother, Daltie Cooper, was also a pitcher in the Negro Leagues but pitched primarily in the East, while Andy pitched in the West.

Beginning his career with Detroit, he is credited with a composite 5-11 record during his first two years in the Negro National League; then began a string of impressive seasons, with marks of 14-5, 15-8, 12-5, 12-1, 12-8, and 7-3 for the years 1922-1927. The next year he joined the Monarchs and had records of 13-7 and 13-3, with the latter coming in their 1929 Negro National League championship season. The next season he was involved in a car wreck with other Kansas City players and suffered cuts on his arms and legs. The last part of 1930 was spent back in Detroit, where he fashioned a 15-6 work sheet.

During the 1920s he registered a 15-17 record for three years in Cuba's winter league, and in the winter of 1933-34 he toured the Orient with Lonnie Goodwin's All-Star team, playing in Japan, China, and the Philippines before arriving back Stateside. Eventually rejoining the Monarchs, who were playing as an independent team against all levels of opposition, he had a 27-8 record in 1936. The following season, with Cooper at the helm, the Monarchs became charter members of the Negro American League and won the league's first pennant. In the first-half playoffs he pitched a 17-inning, 2-2 tie against the Chicago American Giants, but the Monarchs prevailed in the Series to take the pennant. He added two more Negro American League flags in 1939-1940 before passing away in the spring of 1941 at age forty-five. He was inducted into the National Baseball Hall of Fame in 2006.

Source: James A. Riley, The Biographical Encyclopedia of the Negro Baseball Leagues, New York: Carroll & Graf Publishers, Inc., 1994.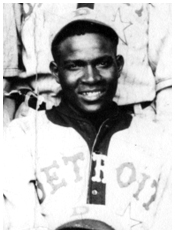 Andy "Lefty" Cooper