Herb Barnhill
Herbert Barnhill
Nickname: Herb

Career: 1938-1946
Position: c
Teams: Jacksonville Red Caps (1938, 1941-1942), Cleveland Bears (1939-1940), Kansas City Monarchs (1943), Chicago American Giants (1944-1946)
Bats: Right
Throws: Right
Height: 6' Weight: 175
Born: July 2, 1913, Hazlehurst, Georgia

He was an adequate catcher who stretched his talent into a nine-year career in the Negro American League, spent with four teams. He began his career with the Jacksonville Red Caps, sharing the starting assignments for a season before being relegated to backup duties for the next four seasons, including the two years the Red Caps were based in Cleveland and playing under the banner of the Bears.

Joining the Kansas City Monarchs in 1943, he gained more playing time, again sharing the regular receiving responsibilities. The following season he moved to the Chicago American Giants and was their irregular receiver for three seasons, although sharing the duties at times. Defensively he was an average receiver in every phase of the game but was a weak hitter, batting .270, .259, and .198 in 1944-1946. A typical catcher, he was slow on the bases. He was not related to pitcher Dave Barnhill.

Baseball Career Highlights:
During Barnhill's nine-year career in the Negro American League, he played with four different teams. As a catcher, he debuted with the Jacksonville Red Caps in 1938. He received more playing time when he became a Kansas City Monarch in 1943. He concluded his baseball career with the Chicago American Giants in 1946.

Professional/Personal Accomplishments:
Barnhill retired from Amtrak in 1975.

Sources:
NLBM Legacy 2000 Players' Reunion Alumni Book, Kansas City Missouri: Negro Leagues Baseball Museum, Inc., 2000.

James A. Riley, The Biographical Encyclopedia of the Negro Baseball Leagues, New York: Carroll & Graf Publishers, Inc., 1994.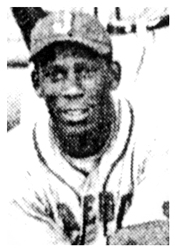 Herb Barnhill