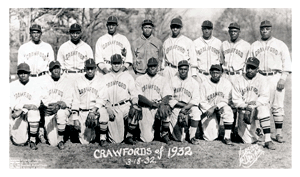 Pittsburgh Crawfords
Formed by Gus Greenlee from a youth team in 1931, the new owner loaded the team with outstanding talent, including Satchel Paige and Josh Gibson, and the Crawfords became a powerhouse for the following five years (1932-1936). The Crawfords played as an independent in 1932, finishing with a 99-36 record for the season. In 1933 they joined the new Negro National League and were a co-claimant to the league's first pennant. The Crawfords finished the first half with a 20-8 league record, only half a game behind the Chicago American Giants. The second half of the season was not completed, and the Chicago American Giants claimed the title, but Greenlee, as president of the league, declared the Crawfords to be the champions, and the matter was never resolved. In 1934 the Crawfords fielded another outstanding team, finishing with a combined 29-17 record for a .630 winning percentage in league play. However, they failed to win either half of the split season, and missed the playoffs.

But in each of the next two seasons, 1935-1936, the Crawfords won Negro National League pennants, and the 1935 club is generally regarded as the greatest black baseball team of all time. The 1935 squad won the first half with a 26-6 mark, for a .785 winning percentage, then defeated the second-half titlists, the New York Cubans, in a closely contested 7-game championship series. In 1936, after a third-place first-half finish, the Crawfords copped the second-half title with a 20-9 mark and finished with the best overall record, 36-24, for a .600 winning percentage, while the first half titlists, the Washington Elites, finished under .500 for the entire season. A play-off was not completed, and again Greenlee declared the Crawfords champions. Unfortunately, the team was falsely accused of throwing a game to the Bushwicks, and despite the denial and retraction, the team's reputation was tarnished.

The following spring Satchel Paige, Josh Gibson, Cool Papa Bell, and several other Crawfords players departed for Santo Domingo, in the Dominican Republic, to play for the country's dictator, Trujillo, and the franchise never again reclaimed the glory from the five preceding seasons. After two second division finishes and a business reversal, Greenlee sold the team, and the franchise moved to Toledo in 1939 and then to Indianapolis in 1940, playing in the Negro American League each of these seasons, and eventually disbanded. In the mid 1940s another team using the same Pittsburgh Crawfords' name was formed, but it was not related to the original franchise.

Source: James A. Riley, The Biographical Encyclopedia of the Negro Baseball Leagues, New York: Carroll & Graf Publishers, Inc., 1994.
Duration:
1931-1938

Honors:
Negro National League pennant (1935-1936)

Affiliations:
Independent (1931-1932), Negro National League (1933-1938)

More team photos