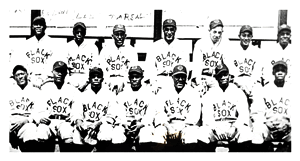 Baltimore Black Sox
The Black Sox started as an independent team in 1916 but was clearly not of major league caliber at the onset. During the latter years of the deadball era, under the ownership and guidance of white businessmen George Rossiter and George Spedden, the ballclub improved the quality of play on into the early 1920s, and attained major league quality before joining the Eastern Colored League in 1923.

After becoming charter members of the league, the Black Sox fielded strong teams each season, but a pennant always eluded them. However, after the league folded during the 1928 season, a new league with essentially the same configuration but with a different name, the American Negro League, was organized, and the Black Sox won the pennant in 1929, the league's only year of existence, with a composite mark of 49-21 for the year.

The Black Sox then returned to independent status until joining the ill fated East-West League in 1932. Baltimore started strong and was in first place, but unfortunately the league did not last through the season. Under new owner Joe Cambria, the Black Sox joined the new Negro National League when it was resurrected in 1933. The team moved to Bugle Field for their home games, and Cambria took the players off salaries and operated on a percentage basis in an effort to remain fiscally solvent during the Depression years. Following a poor performance, they dropped out of the league at the beginning of 1934, but were added for the second half of the season. After another dismal showing both on the field and financially, the franchise folded after the 1933 season.

In 1934 Jack Farrell, a black sportsman from Chester, Pennsylvania, appropriated the team name for his franchise and entered the Negro National League for the second half of the season. After a dismal performance the franchise folded following the season, leaving Baltimore without a major black team until the Elite Giants moved there in 1938.

Source: James A. Riley, The Biographical Encyclopedia of the Negro Baseball Leagues, New York: Carroll & Graf Publishers, Inc., 1994.
Duration:
1916-1934

Honors:
League pennants (1929, 1932)

Affiliations:
Eastern Colored League (1923-1928), American Negro League (1929), East-West League, (1932) independent (1916-1922, 1930-1931), Negro National League (1933-1934)