Thomas Turner
Thomas Turner
Nickname: High Pocket Turner

Career: 1947
Positions: p, 1b
Team: Chicago American Giants
Born: June 22, 1915, Olive Branch, Tennessee

Baseball Career Highlights:
"While managing the Valley Tigers, I beat Satchel Paige in Louisville, Kentucky. I was 2 for 4 off Satchel. Also, we won both games of a doubleheader against the Joe Louis Brown Bombers."

Professional/Personal Accomplishments:
After earning a certificate in business administration, Turner worked briefly at Boeing Aircraft and then began working for the Parks and Recreation Department of the City of Seattle, Washington, as a senior supervisor. In 1970, when he first introduced women's slow pitch softball to the department, there were only six teams. By the time he retired in 1983, there were more than 300 teams in the community. Turner coached women's basketball and softball for 46 years. In 1995, his last year as a coach, Turner's team won the "Blue Chip" Championship at Expressway Park, in Milford, Ohio. The team placed fourth in Ohio and 14th in the U.S. Since 1996, Turner has been involved with the DARE program and speaking at special events. In addition, he conducted vacation bible school classes from 1988- 1999.

Awards, Honors, Titles, Championships,
Schools, Colleges:
• Proclamation for Service to the Youth of Paris, Kentucky from
the Office of the Mayor - May 1996
• Ohio High School Athletic Association State Award for
Exemplary Contribution and Service - 1996
• Washington Recreation and Park Society, Inc. Membership
Certificate
• The Ohio House of Representatives' Special Recognition Award
as One of the Negro Leagues' Finest Athletes

Source: NLBM Legacy 2000 Players' Reunion Alumni Book, Kansas City Missouri: Negro Leagues Baseball Museum, Inc., 2000.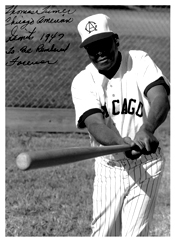 Thomas Turner