Eugene Scruggs
Eugene Scruggs
Nickname: Dick

Career: 1957-1958
Position: p
Teams: Detroit Stars, Kansas City Monarchs
Born: May 17, 1938, Meridianville, Alabama

Baseball Career Highlights:
"While playing in South Haven, Michigan, with the Detroit Stars, I pitched my first shutout striking out 16 batters. The score was 7-0. Shortly thereafter, in Grand Rapids, Michigan, we played against the Kansas City Monarchs. One of the Monarchs, Bob Wilson, was looking forward to playing this particular game because major league scouts were in the stands. However, I pitched to him three times and he struck out each time. Wilson named my curve ball, 'That Funky Curve Ball.'"

Professional/Personal Accomplishments:
In 1970, Scruggs started Associated Contractors, Inc., a janitorial service for the maintenance of office buildings, football stadiums and recreation centers. In 1975, Scruggs became certified as a mortician for the State of Alabama.

Awards, Honors, Titles, Championships,
Schools, Colleges:
• Fraternal Order of Huntsville, Alabama's "Man of the Year" for
Participation in the Old Negro Professional Baseball League -
1995
• City of Huntsville (Alabama) Baseball Recognition - 1995
• West Michigan Whitecaps' Certificate of Recognition for
Contribution to Baseball in the City of Grand Rapids, Michigan
• Honorary Citizen During State of Mississippi Street Naming
Ceremony for James "Cool Papa" Bell
• 2000 Little League Baseball Season Opening Ceremony Honors
in Huntsville, Alabama (Scruggs threw out the first pitch)
• Honored at the Birmingham Black Barons Old Timers' Game
at Rickwood Field (Birmingham, Alabama) - 1999
• Moores Mill Red Sox Five Year City Champions
• Moores Mill Red Sox "Most Valuable Player" - 1962-1963

Source: NLBM Legacy 2000 Players' Reunion Alumni Book, Kansas City Missouri: Negro Leagues Baseball Museum, Inc., 2000.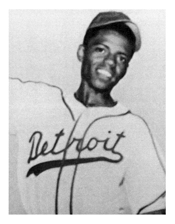 Eugene Scruggs