Jesse Rogers
Jesse Rogers
Nickname: Mr. Long Ball

Career: 1953-1954
Positions: c, of
Team: Kansas City Monarchs
Born: February 16, 1934, Kansas City, Missouri

Baseball Career Highlights:
"The highlights of my career were getting to meet so many great people and going to so many places that I would have never had the chance to see."

Professional/Personal Accomplishments:
"In 1953, I signed with the New York Giants and played in the farm system for two years. Being signed by Chicago Cubs scout Buck O'Neil, I also played with the Cubs' minor league team from 1958-1960. I worked 30 years for the U.S. Postal Service. I retired in 1989. During that time, I played baseball and softball but never coached. Now, I spend most of my time playing golf."

"Personally, I married Winifred O. Barnett in 1955 and we have five children, Faith, Hope, Joy, Gay and Jesse III."

Awards, Honors, Titles, Championships,
Schools, Colleges:
• Wisconsin State League All Star Team - 1953
• Northern League All Star Team - 1954

Source: NLBM Legacy 2000 Players' Reunion Alumni Book, Kansas City Missouri: Negro Leagues Baseball Museum, Inc., 2000.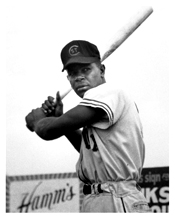 Jesse Rogers