James Robinson
James Robinson
Nickname: Jim

Career: 1952-1953, 1956-1958
Positions: 2b, 3b, ss
Teams: Philadelphia Stars, Indianapolis Clowns, Kansas City Monarchs
Born: January 21, 1930, New York, New York

Baseball Career Highlights:
"I have several highlights. First, being selected to play in the East-West All Star game in 1956-1958. Second, signing a minor league contract with the St. Louis Cardinals' organization in 1954-1955. And third, being the captain of the Kansas City Monarchs in 1957- 1958."

Professional/Personal Accomplishments:
"I graduated from North Carolina A&T State University in 1953 and earned a Master's degree in Social Work from City University of New York in 1968. I worked for the New York City Housing Authority for 28 years. After my retirement in 1985, I began working as a coordinator for the Washington Mental Health Residence Program (1985-1988). Then, I became an assistant professor of Criminal Justice at South Carolina State University (1988-1994) as well as the school's head baseball coach (1990- 1993). Currently, I am an active volunteer with the Harlem little league."

Awards, Honors, Titles, Championships,
Schools, Colleges:
• North Carolina A&T State University Baseball Championship
1950-1952
• North Carolina A&T State University Sports Hall of Fame
Inductee 1987
• Alpha Phi Alpha Fraternity (Member)
• Cited in the Twelfth Edition of Men of Achievement - 1988
• Cited as an "Alpha Athlete" in the Fall 1999 Edition of
The Sphinx

Source: NLBM Legacy 2000 Players' Reunion Alumni Book, Kansas City Missouri: Negro Leagues Baseball Museum, Inc., 2000.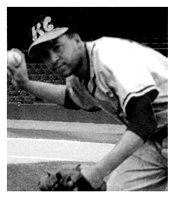 James Robinson