Eddie Reed
Eddie Lee Reed
Nickname: Fast Eddie

Career: 1953-1955
Position: of
Team: Memphis Red Sox
Born: October 12, 1929, Straven, Alabama

Baseball Career Highlights:
"I played for the Western Division in the 1953 East-West All Star game."

Professional/Personal Accomplishments:
"I married Eva Hudson in 1955 and raised six children. They all received a post secondary education. I have been a member of the Prince Hall Free and Accepted Masons since 1950. As a member of the Union Bethel A.M.E. Church, I've been an active officer for 37 years. I retired from the Town & Ranch Self Serve Furniture Store in 1991 after 24 years of employment. Currently, I bowl on a men's bowling league."

Awards, Honors, Titles, Championships,
Schools, Colleges:
• Pioneer League All Star team - 1959
• Uke Sports' "Little League's Most Valuable Assistant" Award -
1962
• Monday Night Men's Pool League: Third Place Team Award -
1972-1973
• Over the Hill Baseball Tourney's "Most Valuable Player" - 1973
• Monday Night Men's Pool League: First Place Individual Award
1973-1974, 1976
• Assistant Coach for Little League All-Star Team - 1978
• "Good Neighbor" Award - 1998

Source: NLBM Legacy 2000 Players' Reunion Alumni Book, Kansas City Missouri: Negro Leagues Baseball Museum, Inc., 2000.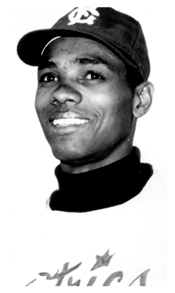 Eddie Reed