William Pope
William Pope
Nickname: Willie, Bill, Wee Willie

Career: 1944-1948
Position: p
Teams: Pittsburgh Crawfords (1946), Homestead Grays (1947-1948), Canadian League (1949-1951), minor leagues (1952-1955)
Bats: Left
Throws: Right
Height: 6' 4'' Weight: 240
Born: December 14, 1918, Birmingham, Alabama

This big right-hander began his career with the Homestead Grays in 1947, notching a 6-7 record, and the next year was a member of the Grays' pitching staff as they captured the last Negro National League pennant. He had a key triple in the ensuing World Series that helped the Grays defeat the Birmingham Black Barons for the championship. His brother Dave was an outfielder on the team. Willie was a good-hitting pitcher and occasionally also played in the outfield.

Leaving the Grays after the 1948 season, he spent the next three years in the Provincial League, where he registered ledgers of 3-5 (2.37 ERA) with Farnham in 1950 and 12-11 (3.82 ERA) with St. Hyacinthe in 1951. He spent three of the next four years with Colorado Springs in the Western League, registering seasons of 12-5, 16-12, and 13-8. In 1954 he was with Charleston in the American Association, where he managed only a 4-11 record with a 5.27 ERA.

Baseball Career Highlights:
"I pitched in Jackie Robinson's first all star game. Also, in 1947, I pitched a no-hitter against the New York Cubans in Washington, D.C." Pope was instrumental in helping the Grays secure the last Negro National League pennant and in defeating the Birmingham Black Barons in the World Series in 1948.

Professional/Personal Accomplishments:
After his Negro Leagues career, Pope played in the Mexican and Dominican Republic Leagues and with the White Sox organization. He worked for the City of Pittsburgh (Pennsylvania) in various positions for 25 years. He has been married to his wife Ethelia for 50 years.

Sources:
NLBM Legacy 2000 Players' Reunion Alumni Book, Kansas City Missouri: Negro Leagues Baseball Museum, Inc., 2000.

James A. Riley, The Biographical Encyclopedia of the Negro Baseball Leagues, New York: Carroll & Graf Publishers, Inc., 1994.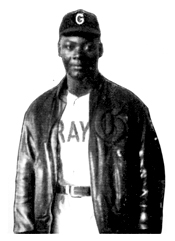 William Pope