Warren Peace
William Warren Peace
Nickname: Bill

Career: 1945-1948
Position: p
Team: Newark Eagles
Bats: Right
Throws: Right
Height: 5' 9'' Weight: 160
Born: August 6, 1921, Kittrell, North Carolina

A pitcher who came with Biz Mackey from California, he was a two-pitch pitcher with a fair fastball and curve but lacking control and was never able to pitch effectively for the Newark Eagles, finishing with an aggregate 6-3 record, while pitching primarily against weaker opposition.

Professional/Personal Accomplishments:
"I worked as a printing pressman during and after my baseball career. I retired after 40 years in the printing industry."

Sources:
NLBM Legacy 2000 Players' Reunion Alumni Book, Kansas City Missouri: Negro Leagues Baseball Museum, Inc., 2000.

James A. Riley, The Biographical Encyclopedia of the Negro Baseball Leagues, New York: Carroll & Graf Publishers, Inc., 1994.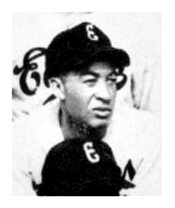 Warren Peace