Warren O'Neil
Warren O'Neil
Nickname: Dadd

Career: 1947
Position: c
Team: Detroit Wolves
Born: October 25, 1917, Carrabelle, Florida

Baseball Career Highlights:
"I enjoyed my whole baseball experience. I just loved playing ball."

Professional/Personal Accomplishments:
"I worked in construction for 39 years under Local Union 435 primarily for the Atlas Wrecking Company. In addition, I've been an international mason for more than 40 years. Happily married for 41 years to my wonderful wife, I have three children and one, who is deceased, eight grandchildren and four great grandchildren. Also, I have been a member of the Memorial A.M.E. Church for more than 40 years."

Source: NLBM Legacy 2000 Players' Reunion Alumni Book, Kansas City Missouri: Negro Leagues Baseball Museum, Inc., 2000.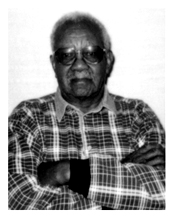 Warren O'Neil