Emilio "Millito" Navarro
Emilio Navarro
Nickname: Millito

Career: 1928-1929
Positions: ss, 2b, 3b
Team: Cuban Stars (East)
Bats: Right
Throws: Right
Height: 5' 5'' Weight: 160
Born: September 26, 1905, Patillas, Puerto Rico

This little infielder had good hands and was considered an excellent hitter. In 1928 he was the regular shortstop and leadoff batter for the Cuban Stars in the Eastern Colored League, and the following season posted a .337 batting average but was suspended for part of the season, along with Ramon Bragana and Alejandro Oms, for not reporting to the ballclub as scheduled by the management. He was often listed in the box scores only by his nickname, Millito. A star in his homeland, he was elected to the Puerto Rican Hall of Fame in 1992.

Baseball Career Highlights:
"I started playing professional baseball when I was 17 years old. I was the first Puerto Rican to play in the Negro Leagues and I am the last surviving player from the Negro American League. In 1929, I hit.337. Also, I was the original shortstop and lead-off batter for the Eastern Cuban Stars team."

Professional/Personal Accomplishments:
"After completing my 20 year baseball career, which included playing with teams in Puerto Rico and the Dominican Republic, I worked for the Puerto Rican public school system as a physical education teacher for 10 years."

Awards, Honors, Titles, Championships,
Schools, Colleges:
• Voted the "Ideal Professional Baseball Player" by Emilio Huike,
one of Puerto Rico's Best Sports Writers, 1938

Sources:
NLBM Legacy 2000 Players' Reunion Alumni Book, Kansas City Missouri: Negro Leagues Baseball Museum, Inc., 2000.

James A. Riley, The Biographical Encyclopedia of the Negro Baseball Leagues, New York: Carroll & Graf Publishers, Inc., 1994.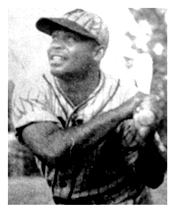 Emilio "Millito"
Navarro