Jessie Mitchell
Jessie J. Mitchell
Nickname: Mitch

Career: 1954-1959
Position: of
Team: Birmingham Black Barons
Born: May 13, 1934, Autauga County, Alabama

Baseball Career Highlights:
"I led the League in batting in 1957 with a .338 average. I was selected to play in four East-West All Star games (1955-1959). In 1959, I completed my Negro Leagues career with the Kansas City Monarchs."

Professional/Personal Accomplishments:
"I worked in the field of nursing for 25 years. I earned the "Employee of the Month" Award from the Baptist Medical and Health South Medical Centers in 1972 and at the Baptist Medical Center in 1982."

Source: NLBM Legacy 2000 Players' Reunion Alumni Book, Kansas City Missouri: Negro Leagues Baseball Museum, Inc., 2000.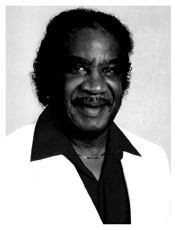 Jessie Mitchell