Ira McKnight
Ira D. McKnight, Jr.

Career: 1952, 1956-1963
Positions: c, of
Teams: Memphis Red Sox, Kansas City Monarchs
Born: August 5, 1935, Trenton, Tennessee

Baseball Career Highlights:
"I caught two no hitters."

Professional/Personal Accomplishments:
After the 1957 season ended, McKnight began playing in the New York Yankees farm system. Unfortunately, after suffering a thumb injury during spring training, he was released shortly thereafter. He then rejoined the Kansas City Monarchs. In the 1960s, McKnight played in various Canadian Leagues. He was also a scout for the Toronto Blue Jays.

Awards, Honors, Titles, Championships,
Schools, Colleges:
• Oliver Junior High School Baseball, Basketball, Football and
Track Titles - 1949
• Negro American League Championship - 1957
• East-West All Star Game - 1957

Source: NLBM Legacy 2000 Players' Reunion Alumni Book, Kansas City Missouri: Negro Leagues Baseball Museum, Inc., 2000.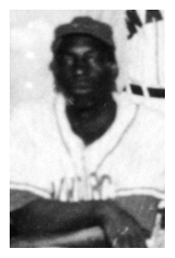 Ira McKnight