Walter McCoy
Walter Loreo McCoy
Nickname: Mac

Career: 1945-1949
Position: p
Teams: Chicago American Giants, Kansas City Monarchs
Born: February 20, 1924, San Diego, California

Baseball Career Highlights:
"Twice in the 1945 season, I trapped Jackie Robinson off third base. Once during a spring training game, I walked straight toward him and tagged him out coming from the mound. The other time was at a game in Comiskey Park. One year, I pitched 11 complete games of the 20 games I started. This record was second only to Gentry Jessup, who started 28 games. My rookie year, I compiled a 9-6 record by striking out 95 of the 475 batters I faced. In a game against the Birmingham Black Barons (1946), I struck out 21 batters."

"In 1948 while playing in the Mexican Winter League for Cuidad Obregon, I set a league pitching record by winning 11 consecutive games. During this 11-game winning streak, I twice defeated the New York Yankees' Whitey Ford. From 1946-1948, 1 played with Satchel Paige's All Stars and frequently played against Bob Feller's All-Stars. In 1950, I became the first black player to play for Sacramento in the AAA Pacific Coast League."

Professional/Personal Accomplishments:
"I have been a building contractor for more than 40 years. In 1996-1997, I played on a 30-year and older baseball team with my sons and was chosen for the all-star team. From 1997 99, I managed and coached my grandson's little league team; my daughter was my assistant coach."

Awards, Honors, Titles, Championships,
Schools, Colleges:
• U.S. Army's MVP Award (while pitching on the special services
team, July 1942 - January 1945)

Source: NLBM Legacy 2000 Players' Reunion Alumni Book, Kansas City Missouri: Negro Leagues Baseball Museum, Inc., 2000.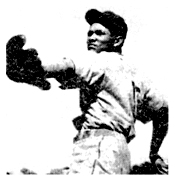 Walter McCoy