Edward Martin
Edward Martin
Nickname: Marty

Career: 1951-1952
Position: p
Team: Philadelphia Stars
Born: June 18, 1925, Allentown, Pennsylvania

Professional/Personal Accomplishments:
After earning a Master's degree, Martin coached baseball and basketball and taught at South Carolina State University (SCSU). During his tenure at SCSU, he won two baseball and eight basketball championships.

As an instructor and coach at Tennessee State University for 17 years, he won more than 500 basketball games. For the past 15 years, Martin has been an associate professor at Vanderbilt University in Nashville. In addition, he has coached 15 All-Americans and helped 16 players get recruited by the NBA. Currently, he is an NBA scout.

Awards, Honors, Titles, Championships,
Schools, Colleges:
• Tennessee Sports Hall of Fame - 1994

Source: NLBM Legacy 2000 Players' Reunion Alumni Book, Kansas City Missouri: Negro Leagues Baseball Museum, Inc., 2000.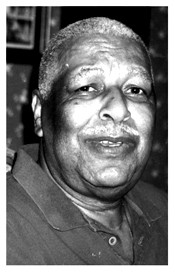 Edward Martin