Frank Marsh
Frank Marsh
Nickname: Lefty

Career: 1954-1958
Positions: 1b, of
Teams: Birmingham Black Barons, Kansas City Monarchs
Born: January 1, 1931, Mobile, Alabama

Baseball Career Highlights:
"My first year with the Birmingham Black Barons (1954), I made the East-West All Star team. In 1955, I played with the Kansas City Monarchs, where I was selected for the All Star game the next two years."

Professional/Personal Accomplishments:
"As a graduate of Grambling University, I was the baseball team captain and the assistant baseball coach. At Bishop State Community College, I was a basketball coach in a summer program. In addition, I taught school for more than 20 years until retirement."

Awards, Honors, Titles, Championships,
Schools, Colleges:
• First African American to Play With the Johnson City (Tennessee) Cardinals (St. Louis Cardinals farm team) - 1953
• Led Johnson City (Tennessee) Cardinals in Batting Average,
RBIs, Hits, Stolen Bases and Singles
• Plaque of Appreciation for Work as Basketball Instructor
• Mobile Baseball Championship - 1968

Source: NLBM Legacy 2000 Players' Reunion Alumni Book, Kansas City Missouri: Negro Leagues Baseball Museum, Inc., 2000.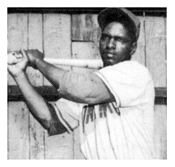 Frank Marsh