Rendon Marbury
Rendon A. Marbury, Jr.
Nickname: Jug

Career: 1956, 1958
Positions: 2b, 3b, ss
Teams: Birmingham Black Barons, Indianapolis Clowns
Born: June 30, 1937, Leeds, Alabama

Baseball Career Highlights:
"I batted .333 with the Birmingham Black Barons in 1956 and 350 with the Clowns in 1958. I was a pure line drive hitter, with quick hands and a rifle arm. My specialty was making the double play." One of Marbury's most memorable highlights was when he played in the "Great Baseball Festival." This event, organized in part by Rendon Marbury, Sr. and held in Leeds, Alabama, for 11 years, was exciting for every Negro Leagues team involved.

Professional/Personal Accomplishments:
"I retired from American Cast Iron Pipe Company in 1997 after being employed there for 39 years. I played with several semi-pro teams after leaving the Negro Leagues."

Source: NLBM Legacy 2000 Players' Reunion Alumni Book, Kansas City Missouri: Negro Leagues Baseball Museum, Inc., 2000.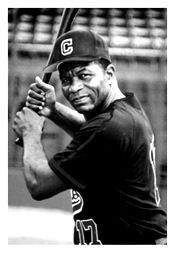 Rendon Marbury