Joseph Marbury
Joseph Marbury
Nickname: Bull

Career: 1957-1958
Position: of
Team: Indianapolis Clowns
Born: December 16, 1938, Leeds, Alabama

Baseball Career Highlights:
"My batting averages were .329 and .361, in 1957 and 1958, respectively. I had a rifle-like throwing arm and was a line-drive hitter with power to all fields."

Professional/Personal Accomplishments:
"I have been working at American Cast Iron Pipe Company since 1958. I have continued to play on several semipro baseball teams. I have also coached little league baseball. In addition, after attending Birmingham Baptist Bible College, I became an ordained deacon in 1982."

Awards, Honors, Titles, Championships,
Schools, Colleges:
• R. R. Moton High School Baseball Championship - 1953-1957

Source: NLBM Legacy 2000 Players' Reunion Alumni Book, Kansas City Missouri: Negro Leagues Baseball Museum, Inc., 2000.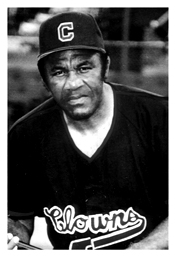 Joseph Marbury