Raydell Maddix
Raydell Maddix
Nickname: Ray, Lefty, Bo

Career: 1947-1953
Positions: p, of
Team: Indianapolis Clowns
Born: October 7, 1928, Tampa, Florida

A power pitcher with control problems, he pitched with the Clowns during the 1949-1950 seasons, when the Negro American League was struggling to survive the loss of players to organized baseball. In the latter year he contributed a 5-5 record (3.73 ERA) as the Clowns won the Eastern Division title. He continued with the Clowns into the 1950s, after the Negro American League had declined to a minor-league status.

Baseball Career Highlights:
"I led the Negro Leagues in strikeouts in 1948-1949. Willie Mays and Ernie Banks both hit a home run off me in my career."

Professional/Personal Accomplishments:
"Pitching back-to-back no hitters in Luther Williams Stadium (Macon, Georgia) for the Panama City Blues, I was 24-2 in 1945.
I lost a game 2-1 at Yankee Stadium with the Tampa Rockets in 1946. Also, while playing first base with the Michigan City (Indiana) League in 1967, I led the league in hitting .412."

Sources:
NLBM Legacy 2000 Players' Reunion Alumni Book, Kansas City Missouri: Negro Leagues Baseball Museum, Inc., 2000.

James A. Riley, The Biographical Encyclopedia of the Negro Baseball Leagues, New York: Carroll & Graf Publishers, Inc., 1994.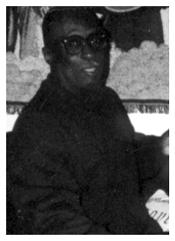 Raydell Maddix