Lee Mabon
Lee Mabon
Nickname: Lucky

Career: 1958-1960
Position: ss
Team: Indianapolis Clowns
Born: August 31, 1940, Fayette County, Tennessee

Baseball Career Highlights:
"I signed with the Clowns out of high school in 1958. I stole a base in each of the first 58 games I played; I was 17 years old."

Professional/Personal Accomplishments:
"The greatest accomplishment in my life was accepting God as my saviour when I was 14 years old and marrying my wife of 38 years, Lillie M. (Winfrey) Mabon. I graduated from William Penn College in 1961, after suffering a career ending shoulder injury in Connie Mack Stadium (Philadelphia, Pennsylvania)."

"The highlights of my life are first my family my wife and three children, Pam, Adrian and Trey. And second, the wonderful, extraordinary men I have had the pleasure to meet and know in my 50 years of baseball- John 'Buck' O'Neil, Ernie Banks, Joe Scott, Verdell Mathis, Frank Pearson, Larry Brown and many, many more."

Source: NLBM Legacy 2000 Players' Reunion Alumni Book, Kansas City Missouri: Negro Leagues Baseball Museum, Inc., 2000.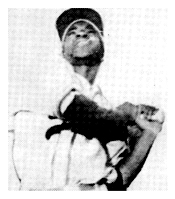 Lee Mabon