Carl Long
Carl R. Long
Nickname: The Kid

Career: 1952-1953
Position: of
Team: Birmingham Black Barons
Born: May 9, 1935, Rockhill, South Carolina

Baseball Career Highlights:
Long played with several organizations during his baseball
career: Pittsburgh Pirates (minor league), St. John (Quebec) Canada, Pioneer League (Billings, Montana), and the Carolina, Mexican and Texas Leagues. Long was the first African American to play for the Carolina League's Kinston Eagles and holds its RBI record.

Professional/Personal Accomplishments:
Long achieved many "firsts" during his lifetime. He was the first African American bus driver, deputy sheriff and detective in Kinston (Lenoir County) North Carolina.

Awards, Honors, Titles, Championships,
Schools, Colleges:
• Annual "Carl Long Day" in Kinston, North Carolina
• City and County Commissioners' Awards

Source: NLBM Legacy 2000 Players' Reunion Alumni Book, Kansas City Missouri: Negro Leagues Baseball Museum, Inc., 2000.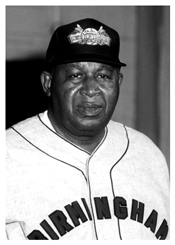 Carl Long