Anthony Lloyd
Anthony C. Lloyd
Nickname: Tony

Career: 1959
Position: 2b
Team: Birmingham Black Barons
Born: April 27, 1936, Fairfield, Alabama

Baseball Career Highlights:
"I played under the leadership of the legendary Lorenzo "Piper" Davis. We won the Negro Leagues Championship in 1959. I was a fast, solid .280 hitter."

"As an alumnus of Tuskegee Institute, I played baseball four years while I was in college and started every game. I worked for the U.S. Postal Service for 33 years as an LSM operator, and acting supervisor. Since retiring in 1993, I spend my time weight lifting, jogging and working with senior citizens."

Awards, Honors, Titles, Championships,
Schools, Colleges:
"As a Negro Leagues player, my team won the 1959 Championship. In addition at Tuskegee, I earned a letter, sweater, jacket and a gold baseball."

Source: NLBM Legacy 2000 Players' Reunion Alumni Book, Kansas City Missouri: Negro Leagues Baseball Museum, Inc., 2000.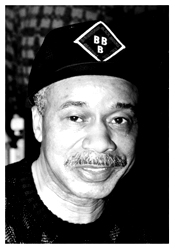 Anthony Lloyd