William Little
William Little
Nickname: Bill

Career: 1952-1957
Positions: c, if
Teams: Memphis Red Sox, Kansas City Monarchs
Born: December 6, 1934, Memphis, Tennessee

Baseball Career Highlights:
"Volunteering to catch during my first game after injuries had decimated regular catchers. The results were Memphis 6, Birmingham 3. The winning pitcher was Charley Pride. The losing pitcher was Joe Elliott. The game was played in Greenville, Mississippi, in 1956."

Professional/Personal Accomplishments:
"I earned a B.S. degree from Le Moyne Owens College in Memphis and a M.Ed. degree from Memphis State University. I coached high school basketball and baseball for 28 years. For more than 30 years, I have officiated football and basketball games in the Southwestern Athletic Conference."

Awards, Honors, Titles, Championships,
Schools, Colleges:
• Two City Basketball Titles
• Three Baseball Crowns on the High School Level
• Voted Baseball and Basketball "Coach of the Year"
• Vanguard Club's Coaches Hall of Fame - 1998

Source: NLBM Legacy 2000 Players' Reunion Alumni Book, Kansas City Missouri: Negro Leagues Baseball Museum, Inc., 2000.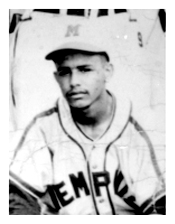 William Little