William Lindsay
William H. Lindsay
Nickname: Red

Career: 1931-1934
Positions: ss, 3b
Teams: Atlantic City Bacharach Giants, Washington Pilots
Born: April 15, 1905, Spartanburg, South Carolina

Baseball Career Highlights:
"I consider the highlight of my short career was to play against the battery of Satchel Paige and Josh Gibson."

Professional/Personal Accomplishments:
"As a college graduate, I was offered the opportunity to work in a sporting goods store that was owned by the owner of the Atlantic City Bacharach Giants. I ran his special order department from 1933-1983."

Awards, Honors, Titles, Championships,
Schools, Colleges:
"I am fortunate to have been elected to the Johnson C. Smith University Hall of Fame in Charlotte, North Carolina. In addition, having earned a B.A. degree, I have a "Class A" certificate to teach high school in North Carolina."

Source: NLBM Legacy 2000 Players' Reunion Alumni Book, Kansas City Missouri: Negro Leagues Baseball Museum, Inc., 2000.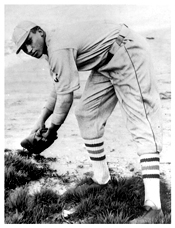 William Lindsay