Frank Leland
Frank C. Leland

Career: 1887-1912
Positions: of, manager
Teams: Washington Capital Citys (1887), Unions (1887), Chicago Unions (1888-1900), Chicago Union Giants (1901-1904), Leland Giants (1905-1909), Chicago Giants (1910-1912)

Best known as a pioneering organizer, manager, and owner, Leland played outfield for three seasons with the ballclub that was called the Unions in 1887 and the Chicago Unions in 1888-1889. In 1901 he combined the team with the Columbia Giants to form the Chicago Union Giants. In 1905 he formed the team that carried his name, the Leland Giants, and managed the team until 1907, when he lured pitching superstar Rube Foster to Chicago to take the reins of his team.

This combination proved a good one until 1910, when the two black baseball pioneers parted company and he formed the Chicago Giants. He and Foster both claimed the pennant from 1909 and the name "Leland Giants," and the dispute required legal rulings before accord was reached. Leland' s team, because he had a numerical majority of players from the previous season, won the right to fly the pennant. On the other hand, Foster's team won the right to retain and use the name Leland Giants. which caused much confusion, with Foster's team being called the Chicago Leland Giants and Leland's team being referred to as Leland's Chicago Giants.

Leland, a graduate of Fisk University in Nashville, Tennessee, moved to Chicago and was instrumental in organizing and developing five successful baseball teams in that city, with the Chicago Giants being his last. The sportsman and businessman remained active in black baseball through 1912.

Source: James A. Riley, The Biographical Encyclopedia of the Negro Baseball Leagues, New York: Carroll & Graf Publishers, Inc., 1994.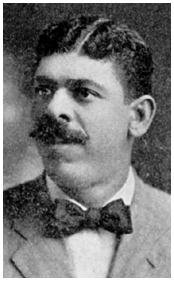 Frank Leland