Larry LeGrande
Larry Edwin LeGrande, Sr.

Career: 1957-1959
Positions: c, of
Teams: Memphis Red Sox, Detroit Stars, Kansas City Monarchs
Born: May 25, 1939, Roanoke, Virginia

Baseball Career Highlights:
"I hit .300 three consecutive years (1957-1959), led the Negro Leagues in outfield assists (1958-1959) and possessed one of the most accurate throwing arms in baseball."

Professional/Personal Accomplishments:
"I retired as a wireman from General Electric after 33 years of employment. Now, I travel to baseball shows with 'Yesterday's Stars', and play in charity golf tournaments. I played three years in the Hank Aaron Charity Tournament."

Awards, Honors, Titles, Championships,
Schools, Colleges:
"As a Negro Leagues player, I was chosen by Satchel Paige to play on his All-Star team. More recently, I was honored by the Salem Historical Society."

Source: NLBM Legacy 2000 Players' Reunion Alumni Book, Kansas City Missouri: Negro Leagues Baseball Museum, Inc., 2000.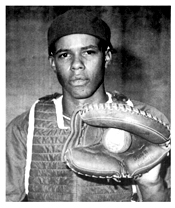 Larry LeGrande