Willie James Lee
Willie James Lee
Nickname: Bill

Career: 1956-1958
Positions: p, c, of
Teams: Birmingham Black Barons, Kansas City Monarchs
Born: March 19, 1935, Birmingham, Alabama

Baseball Career Highlights:
"I hit a grand slam home run in the East-West All Star game. In addition, I played with the Detroit Tigers and Minnesota Twins' organizations for a total of four seasons."

Professional/Personal Accomplishments:
"For more than 30 years, I held various jobs in Grand Rapids, Michigan. I moved back to my hometown, Birmingham, Alabama, in 1985. I coached little league baseball for two years and assisted in baseball clinics. Currently, I take care of my mother, who is 91 years old."

Awards, Honors, Titles, Championships,
Schools, Colleges:
"I have received numerous awards for playing on championship teams as well as certificates and trophies for outstanding play."

Source: NLBM Legacy 2000 Players' Reunion Alumni Book, Kansas City Missouri: Negro Leagues Baseball Museum, Inc., 2000.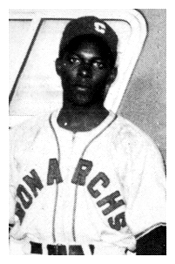 Willie James Lee