Larry Kimbrough
Larry Kimbrough

Career: 1942-1947
Position: p
Teams: Homestead Grays, Philadelphia Stars
Born: September 23, 1923, Philadelphia, Pennsylvania

Baseball Career Highlights:
"I enjoyed playing in the Leagues and having the ability to pitch right- and left-handed."

Professional/Personal Accomplishments:
Before becoming a football referee for local high school and college teams, Kimbrough played semi-pro baseball and football. He worked for the U.S. Postal Service and retired after 35 years. Then, he began working at Reliance Insurance, where he retired after 11 years of service.

Awards, Honors, Titles, Championships,
Schools, Colleges:
• Penn State Hall of Fame - 1997

Source: NLBM Legacy 2000 Players' Reunion Alumni Book, Kansas City Missouri: Negro Leagues Baseball Museum, Inc., 2000.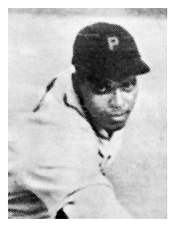 Larry Kimbrough