Louis "Sweet Lou" Johnson
Louis Johnson
Nickname: Sweet Lou

Career: 1955
Position: of
Team: Kansas City Monarchs
Born: September 22, 1934, Lexington, Kentucky

Baseball Career Highlights:
While playing with the Kansas City Monarchs, Johnson was scouted by the majors. In 1962, he began playing with the Los Angeles Dodgers and became a key component in its all-star lineup.

Professional/Personal Accomplishments:
As a major leaguer, Johnson came through in clutch situations. With the Los Angeles Dodgers, Johnson hit a game-winning shot in the 1965 World Series against the Minnesota Twins. And, batting.267 the following season, Johnson's one-run score led the Dodgers to the 1966 World Series. During his Major League career, Johnson played with the Chicago Cubs, Milwaukee Brewers, Cleveland Indians and California Angels. He retired from baseball in 1969. Currently, he is a spokesperson for the Los Angeles Dodgers' organization.

Source: NLBM Legacy 2000 Players' Reunion Alumni Book, Kansas City Missouri: Negro Leagues Baseball Museum, Inc., 2000.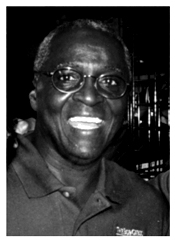 Louis "Sweet Lou"
Johnson