Neale Henderson
Neale Henderson
Nickname: Bobo

Career: 1949-1953
Position: ss
Team: Kansas City Monarchs
Born: June 24, 1930, Fort Smith, Arkansas

Baseball Career Highlights:
"In 1937, when I was seven years old, the Kansas City Monarchs came to Fort Smith. I saw a young man putting up lights. The Monarchs were in town to play night baseball. At about 5:30 p.m., the Monarchs' bus pulled up. When the players got off, I asked if I could be their batboy. They agreed. Then, the Homestead Grays' bus arrived. My brother, Bobby, asked if he could be their batboy."

"I first saw Josh Gibson during batting practice and what a man he was! He could do it all. I personally met "Cool Papa" Bell when the Monarchs were practicing. He took me under his wing and from then on, I wanted to be just like him."

After being an exceptional athlete in high school, excelling in both baseball and football, Henderson was recruited to play with the Kansas City Monarchs in 1949. He said, "My dream came true!"

Professional/Personal Accomplishments:
Henderson served in the US. Army during the Korean War and worked at General Dynamics as a supervisor. He retired after 39 years.

Awards, Honors, Titles, Championships,
Schools, Colleges:
• Numerous Awards in Baseball, Football and Track
• Coast League Baseball Champ (3 years)
• Coast League Football Champ (2 years)
• San Diego American Legion Team
• Little World Series Finalist - 1948

Source: NLBM Legacy 2000 Players' Reunion Alumni Book, Kansas City Missouri: Negro Leagues Baseball Museum, Inc., 2000.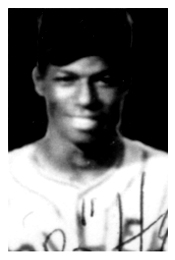 Neale Henderson